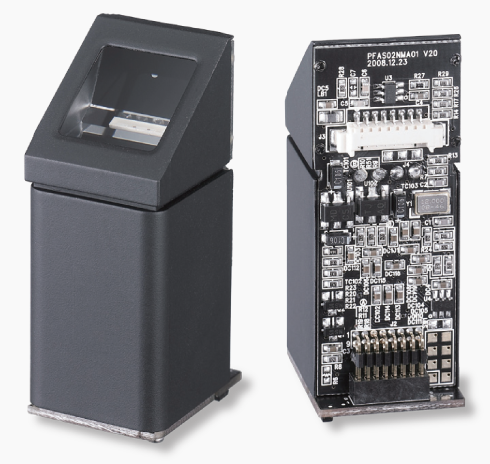 FAS06NL
All-in-one Fingerprint
Authentication Sensor
FAS06NL is a standalone fingerprint modules embedded with all-in-one sensor and top notch proprietary fingerprint authentication algorithm.

Specification
Template Capacity
1,000 templates (S5)
Template Size
400 bytes per template
FRR (False Rejection Rate)
DC 5V ± 0.2V (S5) DC 3.3V ± 0.2V (S3)
FAR (False Acceptance Rate)
<0.1%
Enrollment Time
<0.0001%
Verification Time
<1 sec
CPU
32 Bit RISC CPU
Host Communication
RS-232 (TTL Level)
Power Consumption(mA)
Standby : Max 165mA /
Operation : Max 175mA
Supply Voltage
DC 5V ± 0.2V (S5) DC 3.3V ± 0.2V (S3)
Operation Environment
-20~55℃ / Lower than 90% RH
Event Capacity
12280
Sensor Type
 Optical
Dimension
 21(W) x 53(H) X 27(D)
EVALUATION KIT
Evaluation Kit is a demonstration board to enable users to evaluate the functionality of modules. It can be used with our products, FM-20FP and FM-30FP. Evaluation Kit also provides utility program to help users to test functions such as fingerprint enrollment and authentication.