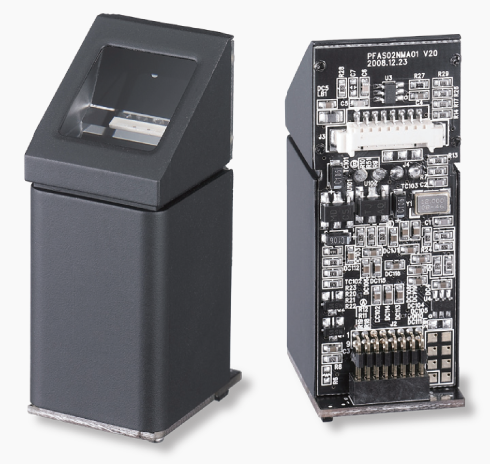 FAS06D
All-in-one Fingerprint
Authentication Sensor
FAS06D is a standalone fingerprint modules embedded with all-in-one sensor and top notch proprietary fingerprint authentication algorithm.

Patented Live & Fake Finger Detection

Provides Evaluation Kit and Supports application development
Optical Sensor
Highly durable and solid optical sensor is embedded for superior performance

All-in-One Sensor
A fingerprint sensor and a module are integrated
Specification
Fingerprint Type
OPTICAL
Resolution
500dpi
Gray Scale
256 gray
Template Capacity
1,000 Template
Log Capacity
N/A
Enrollment Time
< 1 sec
Verification Time
< 1 sec
Host Communication
RS-232
Power Comsuption (mA)
Standby:
Max 165mA
Operation:
Max 175mA
Supply Voltage
DC 5V ± 0.2V (S5)
DC 3.3V ± 0.2V (S3)
Encryption
Seed
Operating Temperature
-20 ~ 60°C
Operating Humidity
-20 ~ 55ºC / Lower than 90%RH
Dimension (W x H x D)
21 x 53 x 27 mm
FRR (False Rejection Rate)
< 0. 1%
FAR (False Acceptance Rate)
< 0. 0001%
LFD
O
EVALUATION KIT
Evaluation Kit is a demonstration board to enable users to evaluate the functionality of modules. It can be used with our products, FM-20FP and FM-30FP. Evaluation Kit also provides utility program to help users to test functions such as fingerprint enrollment and authentication.